In 2020 all over the world are facing a problem of Covid-19. In this situation everyone faces problems like money, education, health etc. In India and speciality in Gujarat impact of COVID-19 is very crucial. During the corona, parents don't want to send their child to the schools. Health is more important to their child. Schools provide online education through the internet and different applications. 
Almost all schools are starred in the month of June. Teachers provide online education through mobile applications. They are using applications like Zoom, Whatsapp, Google Meet etc. Teachers are conducting online education for a bunch of students. Now it's time for exams. So some of the school softwares provides examination modules so schools can conduct the exams online anytime anywhere.
School exam management software conducts exams online, generates marks and prepares customised results. CAMPUSDEAN online exam management software allows you to create and conduct various types of exams. Teachers can create online exams by class wise, subject wise, marks wise etc. CAMPUSDEAN examination module creates or schedules online exams and generates the link which can be passed to parentes mobile or any device who is connected with the internet as well on these numbers who is registered with the school software. Studentes click on the link and appear for the exam.
CAMPUSDEAN examination software system for schools is an excellent system software that can be used effectively to create examination and questions settings for Educational Institutions like Schools / Colleges / Universities / Training Center / Coaching Classes. This Online examination system is a boon for teachers and school management who spend hours on making question papers, scrutiny of answer sheets, evaluating results and preparing report- cards of thousands of students.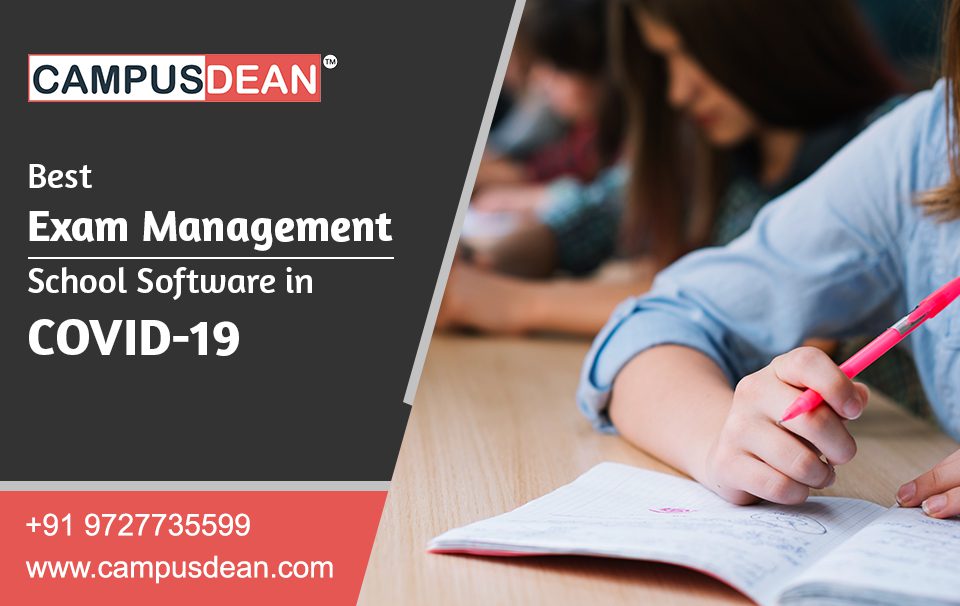 CAMPUSDEAN Exam Software System Features
You can generate perfect error-free timetables. Saves from searching for mistakes.

Teachers can enter the marks directly by the software or from the teacher app of CAMPUSDEAN.

Saves from expenses on stationery items like register books,pens, bundles of paper.

Result analysis on the basis of percentage, subject, gender and caste category.

Customize mark sheets, certificates and reports.

CAMPUSDEAN online examination software module allows students to take examinations from their mobile phones as well.

With CAMPUSDEAN online examination software, you can create online examinations in less than 5 minutes without any hassle.

You can access all modules from a single-window.

We have more than 500 report formats to cater to all types of report making.

Teachers can access the modules after getting a login id.

It makes it very easy for teachers to enter, edit, or update any data.
CAMPUSDEAN is one of the best exam school management software system in Ahmedabad, Gujarat. In the COVID-19 situation, schools can take online exams from home. If you are looking for affordable, best and top exam school management system software then contact CAMPUSDEAN team.