CAMPUSDEAN hostel management software system is for managing hostels for schools and colleges. This is a smart system that helps to perform all tasks from a single window. It saves the data of students, staff, and hostels on a cloud platform. Also, it makes it easy to reach data for making changes.
It has different modules in it that take care of allotment of rooms and selecting warden-in-charge for a hostel. This system stores all the details like the number and types of students and hostels. This makes it easier to allot rooms and beds to students.
Why use the Hostel management system for Schools?

 
Hostels become home for students when they leave their nests to pursue education. Hence the schools and colleges need to provide a homely environment for the students so that they can study and live comfortably. Boarders should get all the necessary facilities.
It is challenging when boarding starts from classes like five or six. Young kids are quite afraid to start this new journey. They miss their homes. So schools and colleges need to ensure they get a safe and secure environment like their homes.
Hostels have to take care of living accommodations and arrangements for timely meals. It is necessary to take care of the health of children living in hostels. Managerial members need to take extra care of the food and sanitation.
Generally, schools or colleges have more than one hostel. It becomes tough to look after all the requirements and safety measures with the increasing number of boarders.
Hostels need many staff to take care of those needs. All in all, these demands proper supervision to make hostel life suitable for children and take care of their needs. Hence, a robust hostel software is necessary for schools. That will automate the process and make it simpler.
What Solutions Do We offer in the Hostel management system?
The student management system of CAMPUSDEAN provides the module to manage hostels. This system takes in details like the number of students and hostels, types of the hostel( girls or boys), the total number of floors, rooms, and beds. That makes it easier to allot rooms and beds to students every academic year. 
CAMPUSDEAN stores all data on a cloud platform. Staff responsible for the hostel management can make changes from a single dashboard. They can assign hostel duty to wardens from here. Upkeep of bills and charges is also available on this software. 
It becomes effortless to analyze and make the best use of resources. Moreover, it is easy to edit and update data. That saves a lot of time and makes the process fast. It also helps to address problems at hostels with ease and in an orderly way. 
Features of Hostel management system
CAMPUSDEAN is the best School Management Software in India, and it provides the following features:
Records sold out assets

Manages multiple hostels

Manages details of warden of each hostel

Hostel Software manages details of warden of each hostel

Single search window for room availability

Records the number of floors in each hostel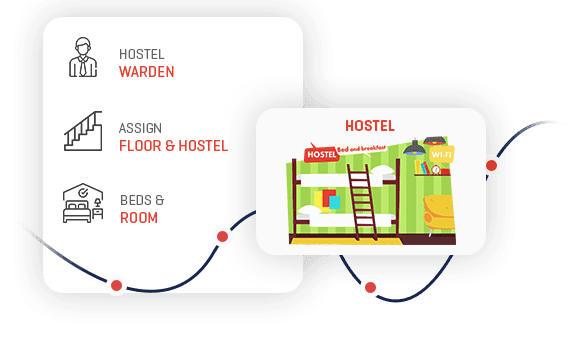 Advantages of Hostel management system
It helps to save time in allotment of rooms and hostels to students.

Makes the transfer of old students to different rooms or hostels every academic year faster and easier.

Hostel management system makes it convenient to check the details of the students and staff at the hostel.

With the help of our hostel management software making queries and resolving complaints becomes simple.

Records of all assets of a hostel are present in the system.

Schools can store details of the warden.

You can inform students and staff of the hostel regarding any changes through text messages. 
Why choose the Hostel management system of CAMPUSDEAN?
Schools and colleges can define any number of hostels, their names, and type. You can store details of the warden, then select the hostel and assign them. Directly allot rooms and beds to new and old students applying for a hostel. You can make students list for eating at the canteen of a hostel.
You can define the details of a hostel, like floor numbers or names. And the total number of rooms on a particular floor. This software stores details of assets of a hostel, like the number of beds, fans, lights, etc. From here, schools can track different things in a hostel.
CAMPUSDEAN also has a Parent app for guardians. From here, parents can know about the activities of their child in the hostel. They can make queries or talk to the warden through this app. It assures parents about the safety and living conditions of their children.
The Hostel Management System of CAMPUSDEAN helps to save a lot of time. It is an efficient way to handle the daily work of the hostel. It keeps accurate records of the data. Hence, it prevents data from repeating, which avoids confusion.
(FAQ) Frequently Asked Questions
Can we assign rooms and beds from here?
Yes, you can directly save all the details of the rooms and beds in this module. Then easily assign it to new students or transfer the previous batch of students to those rooms. Updating particulars is very easy and also saves you the trouble of duplicating the same student to two rooms.