An inventory management system is a software that tracks items in the inventory. It makes bills, generates orders, and monitors the delivery. Also, it helps to avoid overstock and outages. Mainly, it organizes the data of the inventory in schools and colleges.
It includes different modules to cater to various tasks like stock cover and order quantity. It assists schools in keeping details of every item they purchase. Even, maintain accurate data of bills and store names and details of vendors. This software helps to make optimum use of resources of schools.
Why use an Inventory Management System for Schools?
Schools use a large number of items like stationery and general things. They have many furniture like benches, desks, tables, podiums, etc. Chalks, dusters, markers, and papers are consumed in large quantities by the school. They have to replace them in stock continuously.
This produces a vast number of bills that are necessary for keeping a record of the expenses. To check the misuse and overuse of resources. It is essential to keep track of the items that are consumed and in what quantity. Adopting this system helps to lessen the expenses.
It helps to make the best use of the resources or items already available. Schools can also record the details of vendors and items bought from them. This helps during the time of replacing damaged goods. You can also make complaints if there is an issue in the quality of the items.
When the staff responsible for making the records of the bills and stocks is absent or on leave. It becomes confusing to place new orders or search for anything. This software takes up this task and manages it all from a single window.
Anyone can easily use this software to make new orders and track old ones. It removes the dependency on a specific person or staff.
What Solutions Do We offer in the inventory management software?
Stock keeping becomes automatic. It collects data, conducts calculations, and stores records. Increases the efficiency of schools in using materials to their optimum use. Therefore, schools save money, resources, and time.
Inventory management software makes the system transparent, managerial members can keep track of the expenses. Cycle counting becomes easy and accurate. You can do it more often. Similarly, schools can adequately fulfill the needs of various things needed for teaching.
You can reduce those scenarios when stock is empty and halts the working. That means you can make sure that stock has all items always ready. We help you to organize your inventory perfectly.
Our software helps you to track the quality of the materials. If an item is of poor quality, you can write a remark beside it. Then you can find the vendor supplying poor quality of things. And change the vendor.
Schools have a real-time update on the inventory. As the data is available on the cloud-platform, an authorized person can cross-check the data maintained at any time from anywhere.
You can give limited access to make an order, receive items, and distribute them. It helps to speed up the process. It helps to analyze the consumption rate of different things. Who is making demands for which items, and in what quantity?
Staff responsible for allocating stationery to teachers can record their names and quantity of items they have taken. This will help to check a waste of chalks, papers, registers. Staff will ensure that they make good use of the resources.
Features of the inventory management :
You can place orders

Store records of stock

Records of different items in stock

Keep details of Vendors and their phone numbers

Save the Purchase orders

Maintain records of Stock Outward

Facility to keep notes of received goods

Create and add items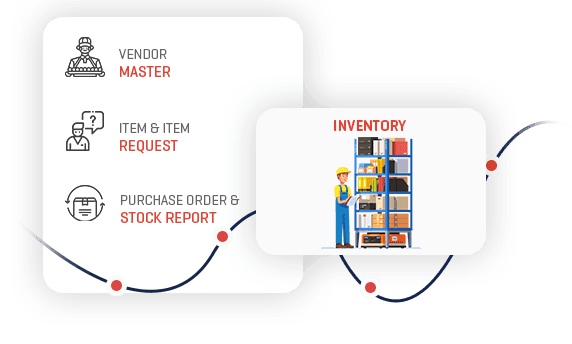 Advantages of the inventory management software of CAMPUSDEAN
Stock management software saves time and money for schools.

It helps to keep track of the stock at any time from anywhere.

There is no need to search for materials physically when all the list is available on the inventory module.

Schools can keep a correct account of damaged goods and their prices.

Depleting stock can be replenished beforehand.

No worry regarding missing of items.

Vendor management becomes easy.

The delivery of goods is on time.

All details of an item are easily stored.

You can increase the cycle counting for goods.
Why choose the inventory management software of CAMPUSDEAN?
The complete process turns hassle, bogus, and error-free. Due to the cloud-based platform of CAMPUSDEAN, every detail of the items in inventory is available online, accessible to personnel with permission from anywhere.
Management can monitor the expenses of the stock directly. With the school inventory management software module of CAMPUSDEAN, The Best School ERP, schools can manage their inventory in the best possible way.
(FAQ) Frequently Asked Questions
How to use an inventory system to reduce costs?
You can keep track of the expenditure on buying items for the stock. After monitoring the consumption rate, you can make a plan to allow a fixed number of things to the staff. This will help to reduce wastage and save money.