CAMPUSDEAN HR management software system manages all the work of the Human Resource Department from an online platform. It has different modules to cater to the diverse functions of HR. These include salary, attendance, leaves, and benefits. Data is input into the software, and the system manages it.
It is meant to improve the efficiency of the workforce. This system takes in all the details of the employees. It maintains an accurate record. They are available for making changes from anywhere at any time.
HRMS combines several systems and processes. These store details of all employees, their roles, and designation. A single window handles shift duties, attendance, and recruitment processes. It becomes easy to manage everything from one dashboard.
Why use HR management system for Schools?
Schools and colleges have teaching and non-teaching staff. The teaching staff is of two types: Permanent and the ones on an ad hoc basis. As the size of the school grows, the number of staff also increases. Gradually, schools accumulate a large quantity of data. It becomes tough to handle large data on paper or excel sheets.
Moreover, it is essential to give the salary of staff on time. For that, the attendance record should be ready. Staff go on holiday or take leave for a few days. Schools cannot make an accurate salary report without the exact number of working days of the employees.
HR software streamlines the data of the employees. It keeps accurate records of attendance and leaves. Then, accordingly, it generates the salaries. So schools can disburse the pay on time without any stress.
It helps schools to keep a record of payslips, contracts, if any, with the staff. This avoids confusion in the eleventh hour. HRMS software tackles all the troubles a school faces. The system becomes transparent, which is helpful for the staff and school.
What Solutions Do We offer in the HR management system?
We have many solutions to handle all the jobs of HR. There are many modules in HR management software. That allows you to store all the details of an employee. These details are readily available for editing and updating.
This software takes the data of attendance from the Biometric or Online Attendance System. It calculates the number of holidays taken by an employee. Then accordingly generates the salaries of the staff. This complete process is hassle-free with no chances of mistakes in the reports.
Schools can define holidays for an academic year. Moreover, staff can directly apply for leave from Online Leave Application. HR can allow or reject the leaves straight from HR software. The management can see the attendance record of staff on the Management App.
The modules are customizable, and schools can change it as per their needs. You can make your salary and bonus structure. It allows for the proper division of employees into different heads.
Schools can generate payslips and assessment reports. Manage the transfer or end of the term of a staff. Besides, schools can also manage the PF account of staff along with income tax details. All functions become smooth, easy, and fast by using the HR management system.
Attendance & Leave
Online Punch Facility

Define flexible Holidays

Online leave application

Marking attendance, Correction

Customizable Attendance Policy

Customizable Shift Management

Check the Staff Attendance Report
Loan Management
Contracts

EMI or Tenure

Customize Loan Options
Payroll Management
Salary Structure

Loan/Salary Advance

Customize Salary Heads

Arrears/Bonus/Incentive

Generates & Prints payslip

Advance salary payment detail

Staffs to download their payslips

Generates The Salary And Leave Structure as required.

Manages Pay Register accurately with all allowances and deductions.
Compliance Management
ESI

Income Tax

Provident Fund

Other Compliances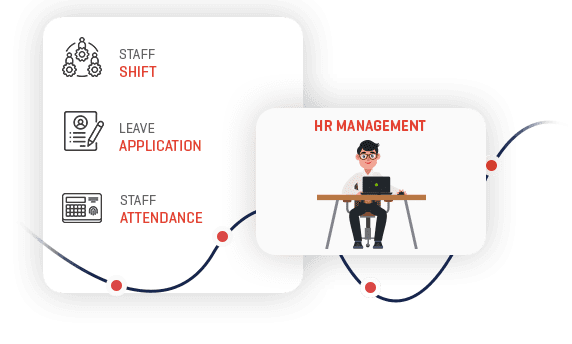 Performance Appraisal
Appraisal

Evaluation

Goal Setting

Employee Scorecard
HR Analytics
Appraisal due dates

Customized Reports

Salary Revision History

Reminders on Probation Confirmation, Compliance Report submission
Other Benefits
Asset Tracking

Staff Bank details

Staff Personal Data

Travel & Reimbursement

Segregation of staffs ad hoc staffs

Manages Employee Transfer And Termination

Manage Ex-Employee Details & Staff PF Account
Advantages of the HR management system
It lessens the burden on the person handling employee details and salary. It gives them an easy way to edit and update information with one click.

It saves a considerable amount of time and decreases stress.

Handles the procedure of making payments perfectly and seamlessly. It also makes automatic reminders on the payment of wages.

Leaves scope for negligible errors or mistakes in making reports.

It helps to identify the work efficiency of individuals working for your school or college by keeping an accurate account of attendance.

You can surely identify people who are working with dedication, and appraisal becomes easy.
Why choose the HR management system of CAMPUSDEAN?
The HR management system of CAMPUSDAEN is all in one platform for managing employees and their data. 

It is customizable, and schools can make their salary structure and employee structure.

Gives you a user-friendly platform, so you need not be a rocket-scientist for using this module.

This software displays essential information like the attendance of staff on the

mobile app

of CAMPUSDEAN for the school managerial members. That improves the punctuality of the staff, in turn, improves work performance. 

No chance of error or duplication of the data as it generates a unique ID for each staff. 

Maintains your data accurately and safely. Only personnel who have permission from the admin can open the HR module.

Reports are available in the form of graphs and charts. They help to visualize the data in a better way.
(FAQ) Frequently Asked Questions
Does it keep a limited amount of data?
No, as the student management system, CAMPUSDEAN is a cloud-based platform. Schools can keep any amount of data on it.