CAMPUSDEAN School Accounting Software System helps schools by managing their finances. Besides, it does so by using a robust software. This system records money transactions on a digital platform. Due to this, it becomes easy to track expenses of a school.
There are different modules in this system. They cater to various aspects of accounting, like a ledger, payroll, and more. This software takes care of all safety measures to handle the money. It is login based. The only people with permission can access this software.
It is a sophisticated software that manages all the money of the school daily. It reduces the burden on staff who takes care of finances. Also, it removes the scope of errors and manipulation of data.
Why use School Accounting Software for Schools?
Account Management is the biggest challenge for an institution. To run a school successfully, the management of money is decisive. Without proper planning, a school cannot work. It cannot give quality education.
Schools have big funds to manage. Capital investment in the infrastructure takes a significant share. Electricity and water are a must. With active kids around, furniture, and paint need regular maintenance. These expenses take up a lot of money and time.
Fees are a major source of revenue. With more than a hundred students, it is challenging to maintain the records impeccably. So, book-keeping demands a level of accuracy. An amateur cannot handle accounting files. A single error can lead to harmful outcomes.
Not just that, it is tough to trace a mistake and rectify it. It leads to loss of money and time, and this is not prudent at all. If finances are messy, a school cannot survive nor grow.
Accounting Management Software helps to make it less chaotic. So schools can run smoothly. It reduces or nullifies the scope of mistakes. Schools can manage finances successfully. Maintain records of employee expenses, bank details, and imprest money carefully.
What Solutions Do We offer in School Accounting Software?
Student fees collection software gives options to run your accounts department from here.
Features of School Accounting Software are
Data is highly secured

Complete data storage

Generates 80G Receipt

Manages Income & Expenses

Maintains bank details accurately

Manages Assets, Liabilities, Income & Expenses

Financial data can be exported to Tally Software

Records daily transactions detail in the Day Book

Generates General Vouchers, Fee Receipts, Bank Slip, Salary Slip, etc.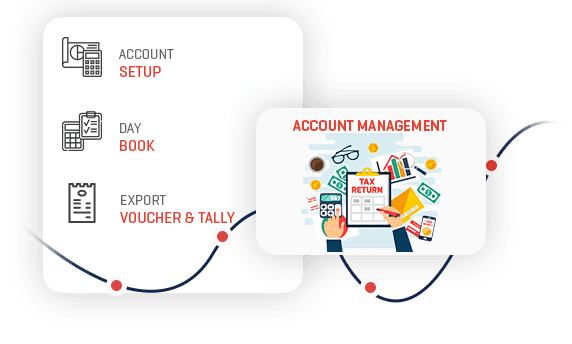 Advantages of School Accounting Software
It will be no overstatement if we say this software improves the complete decision-making process. This gives a wonderful chance for schools to grow. It enhances the quality of teaching and learning. 
It reduces burden and pressure on staff responsible for handling accounts. They can keep accurate track of data. You can generate any report swiftly. It becomes easy to tally the ledger. Simpler to view or edit any data.
Finances are readily available for inspection. So schools make better decisions that too on time. 
To search for any data of a student, type the name or the class, and get it. There's no-fuss in finding old information. No discrepancy and duplication in records. You can get vouchers, fee slips, salary slip all in one click.
Every concerned member has access to the data of revenue. They can keep an eye on the expenses at all times. Promotes timely planning, and the system works smoothly with the right plan. 
Why choose the School Accounting Software of CAMPUSDEAN?
CAMPUSDEAN gives the best accounting software for schools. This is a robust and secure school billing system. It has the latest technology to manage data of accounts. The functioning is smooth and time-saving.
Only authorized personnel can edit or update the records. Using this feature prevents mismatches in the data. It helps to find errors and monitor the accounts accurately. Also, it fetches any old data quickly.
It follows all safety protocols to secure the information. Schools get the benefit of keeping massive records flawlessly. Schools can send a text message as a reminder for fees due. This system directly computes the working days and takes out the salary.
Management can see expenses on the Management App of CAMPUSDEAN. It creates graphs and charts. Graphs help to visualize the overall impact of financial decisions in a better way. Accounting software minimizes risks to a great extent.
(FAQ) Frequently Asked Questions
Are the records safe?
Yes, records are entirely safe as data travels in encrypted form. Only those staff who have permission from the admin can access this module. The user has to have a login id and password for it. Hence any discrepancy can be easily traced.
Is it possible to send notice of the fee due or deposited?
Yes, SMS and email templates are available to notify a student if their fees are due. As the student deposits the fee, immediate notification is sent regarding it.