Preparing various kinds of reports and preserving it, is a tough task for the staff but to execute the goals and objectives of any organization a good reporting system is imperative. Reports are very much useful for tracking the performance of the students and for analyzing data easily. It is an effective way of communicating the results and helps in improved decision-making. Admin can give the rights to different users for different modules for accessing the reports & certificates. Report card generator software system facilitates the staff in generating various reports in just a few clicks and a huge time of theirs can be used productively.
The Features of This Module are :
Student Merit List Report
Bonafide Certificate in bulk
Student/Employee leave Report
New Admission Report Generation
Government specified format of PF Report
Student School/Class/Division Wise Reports
Student Results, CCE Report, Percentile Rank Report
Generates Student/Employee leave & New admission Report
Student Attendance Report (Year/Month/Week/Class/Division)
Salary & Attendance Reports for Regular Staff And Ad-Hoc Staff
Student Fees Report, Collection Report, due fees Report (Class/Division Wise)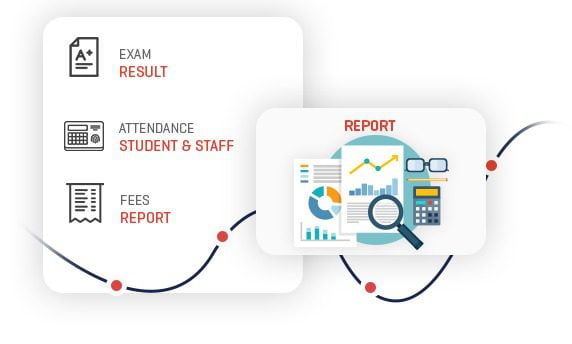 With the innumerable benefits of this module, the performance of school improves significantly. Teachers and management can analyze the graphs based on generated reports to identify areas that are in dire need of improvement. Implementation of new ideas and concepts becomes easier after viewing the reports and figures daily.  Records of students are available on the Teacher's app, and the school's report is available on the Management App. Teachers and managerial members can see these from home or even when they are on vacation. In this way, they will not miss any significant developments. CampusDean is very helpful in maintaining and updating records because it's
The Best School Database Management Software.