CAMPUSDEAN School Management System is a software that makes timetables easy. That too, in a few seconds of taking in the details. Schools cannot make these so quickly manually. They have to assign a teacher or many teachers for this and create according to their subject, class, division etc. is difficult to make on paper.
A school cannot start running unless the timetables are ready. It becomes easier to manage the daily routine of teachers and pupils with the help of timetable. It would help if you had the routine prepared before the beginning of the classes. So, teachers can start teaching without wasting a day.
Brief Overview Of Timetable Software System
The school timetable management system saves a lot of time in making timetables. It prevents duplication of teachers to the same class at the same time.
To design a timetable manually, the school has to input many details. These variables should match perfectly to make an error-free timetable.
Total no. of classes/standards

Different sections in a standard

Subjects of a particular class

Teachers for a subject

Teachers for primary, middle, and high school

Number of periods in a day

Duration of a period

All these variables should match perfectly to make an error-free timetable. 
There are three sections/divisions of a particular class in K-12 school. They have to design more than 36 timetables at the beginning of the academic year. There are eight periods in a day and five days a week. You have to allocate forty lectures in a week to different teachers.
All classes should start immediately to optimize the teaching and learning process. But it is challenging to prepare more than 36 timetables. At once that too in a one-go. This wastes two to three working days of teachers and students.
CAMPUSDEAN school management software saves time by making error-free timetables.
What Solutions We Offer in Timetable System
To generate a timetable in a few seconds. You can directly feed details like the number of subjects, teachers, and periods. CAMPUSDEAN has a Teacher's app and Parent's app. This timetable is available on both the apps.
Teachers can see their schedules on the Teacher's app. Students and Parents can see the timetable of a student on Parent's app. So, teachers need not carry their program written on a piece of paper all day long. Students will not bring the wrong books and copies.
It is helpful for the teachers to select all the lectures at once. When a teacher is absent, you can easily assign a different teacher by the Proxy Settings. Teachers can set reminders for the next class. They can also see the time of a particular lecture. Our Solutions save time for teachers and make effective use of their potential.
Features of School Timetable Management System of CAMPUSDEAN
Timetable for students

Schedule for teachers

Make timetables online

View the workload of a teacher

Easy planning

Reduces Paperwork & saves time

Customized timetable for holidays

Rearrange timetable in a single click

Appointing proxy when a teacher is absent

Teachers can check the timetable from their login

Set different class timings for different periods

View the number of periods for a particular subject

Students can check the time table for the whole week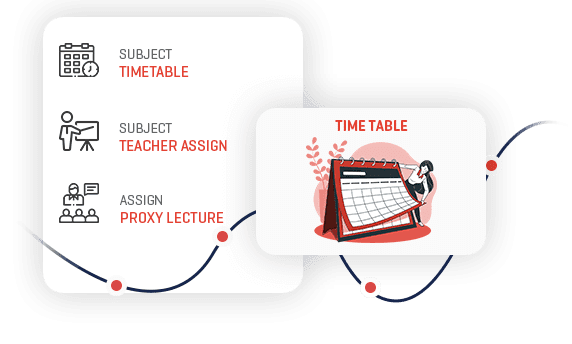 Advantages of
CAMPUDEAN
School Timetable Making System
The shift from traditional pen-paper to digital mode is not only comfortable but also smooth. There's no need to write a timetable on paper and carry it around like an old school.
Start the classes right from the first day of the new academic year. Assign classes to teachers efficiently. You can bring variety in the monotony of the routine. Between two difficult subjects, put an easy one.
Parents can see the timetable of their children on the phone at any time. It makes it easy to pack the books and copies for kids. They can see the name of the Teacher for a particular subject. Students need not carry extra books and notebooks.
Teachers and students become prompt. Attendance for teachers is present for every period. Schools can keep track of whether teachers are taking the lectures on time.
Why choose CAMPUSDEAN for School Timetable Software?
We give perfect timetable within a few seconds, once you put the details. And it is entirely error-free. There are various formats available.

It is entirely customizable according to your needs.

You can start your classes as soon as a new session begins without wasting a single day. 

This module is beneficial both for the teachers and the students.

No two classes get the same Teacher.

It optimizes the time and potential of your teachers.

It gives flexibility. Reduces the burden of the teachers to make and rectify the timetable. The classes resume smoothly.

It improves the punctuality of teachers. They take lectures on time. They can also take print-out of their schedule. 
FAQ of Timetable Software
Is the timetable customizable?
Yes, you can customize the timetables according to your needs. You can change the number of days, lectures, and duration of a particular lecture.
Can teachers see the lectures on their phone?
Yes, on the Teacher's app. As soon as you design the timetable, a teacher can see her/his lectures on their mobile phones.
Call 9879310901 or mail on info@campusdean.com.