We can divide the need for an automated student attendance management system into two categories:
One for the students and the other one for the teachers and staff.
Taking attendance is indispensable as it gives an idea about the percentage of students who are regular in studies. More importantly, in schools in rural areas, it provides accurate data on the ratio of girls to boys who come to school regularly. 
It reveals a pattern of absenteeism shown by students, like on days homework is to be checked, some assignment is to be submitted or when they have class tests.
Attendance ensures that students are punctual and don't miss class teaching for learning things well.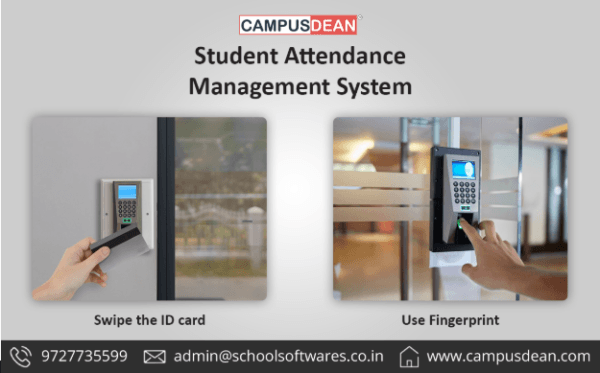 Automated Attendance for Students Gives Benefit to:
Teachers:
While marking presence on the class attendance register, teachers check school diaries for granting leave, reasons for being absent without prior notice, and sick leaves.
Conventional method of taking attendance on registers takes an average of ten to fifteen minutes daily. Time duration of one period is usually 30 to 35 minutes. Fifty minutes in a week and approximately 200 minutes spent in a month. Therefore time equivalent to six periods is lost in taking attendance manually. 
Automated attendance is taken by these means
– Biometric attendance 
– Attendance by RFID cards
– Attendance by online digital register
For Biometric, students need to press their fingers onto the screen and in RFID system flash or punch-in their cards, which do not involve the class teacher. In the online digital register, all students are marked present by default. Hence the Teacher just deselects box of the absent students, this hardly takes a minute. 
A lot of time is saved that can be utilized in interacting more often with students, clearing their doubts, or in cultivating creativity in the natural learning process.
Parents:
With an automated system, they instantly get Notice alerts regarding the absence and presence of students by SMS, Email, or message in Parent's mobile app provided by schools. This gives them peace of mind by knowing their child has safely reached school and is attending the class. No worry about their wards missing classes by bunking school. Parents learn about any anomaly if their child/children do not go to school on specific days. They can know if it is due to incomplete homework or assignment. Parents can directly apply for leave from their Parent app, that can be granted by the Teacher immediately. The record of attendance cannot be tampered or manipulated with, this establishes faith towards the school.
Students:
They get more time to learn, ask their doubts, discuss concepts, and be more innovative, enhancing their learning skills.
Attendance of students improve because instant notice alert is sent to their guardian if their presence is not marked digitally. They cannot fake their attendance through proxy and bunk classes or school. Regularity of a student helps him or her do better in studies. 
Automated Attendance for Teachers and Staff Gives Benefit to
Teachers/Staff:
They need not wait in line to sign the attendance register. They can directly punch-in their cards in the RFID system or press their finger for Biometric. They can see their attendance in the Teacher's app on mobile furthermore apply for leave directly. Online record is maintained that is helpful during the time of salary. They can inform the principal or vice-principal in case they can't come to school. Attendance cannot be tampered or changed wrongfully.
Management:
The managerial members can keep track of attendance of teachers/staff and students directly by their Management app on mobile phones daily. Reports and graphs are generated on a daily, weekly, or monthly basis, this can show the trend of regularity of a particular teacher or staff. Management can accordingly take decisions on improving the quality of employees a school has, which will lead to advancing the performance of the work process and teaching in school.
Irregular employees who are not punctually performing their duties can be relieved of their duties. Teachers and staff cannot come late to school or class or leave early, the automated system generates an instant report if a teacher or staff is not on time.
Automated system improves accuracy and prevents false records from being maintained. Hence, no discrepancy in time of disbursement of salary. Measures can be taken to strengthen regularity by the students, teachers, and staff. Exact reasons can be known for any significance absenteeism shown by girl students. And proper measures can be taken to increase the enrollment of girl child in getting literate and educated.
A lot of time is saved when schools adopt an automated student attendance management system. This time is effectively utilized in improving the work process and quality of education imparted in schools.
The money spent on buying attendance register for all classes and teachers/staff are saved. Expenses on buying papers and other stationery items is considerable is reduced. 
An automated system, once installed and implemented is forever, it requires very less maintenance and gives freedom from time taking mundane tasks. It is quite cheap as compared to manual methods of taking attendance. By using a computerized attendance system with the best school management software increases the reputation of schools, increases the trust of parents on school. And saves an immense amount of paper every year that is extremely important for protecting trees and our environment.