Schools have vast data of students to manage. CAMPUSDEAN Student Management Software System stores and organizes this data. It saves the information in a centralized database. That makes it easier to edit and update the data.
This system is designed to streamline the data of students. It is safe and secure to put your data in school management software. Handling data becomes smooth and error-free.
Brief Overview Of Student Information System : –
Students are the central part of a school. It is essential to maintain their data properly. But it takes a lot of time to put all the student's records on paper. Manual file-keeping makes it is tough to find any information.
The Student Database Management helps to do this work on a digital platform. That, too, on a single dashboard. There are various options to store different data. You can search for a student by typing his name, roll number, or class. And, easily update or edit it. This module is connected with other different modules like Admission Management, Fees Collection, Reports, Bulk SMS, etc.
It reduces the time taken to enter or search data. And, improves information sharing amongst different departments. For example, if the accounts department wants to find particular information, it will not take much time.
What Solutions We Offer in Student Details System: –
We are a cloud-based platform and make it very easy to store and access information. You have the option to generate the id-cards directly from the student profile. You need not out-source the data of your pupils and staff to a third-party. This saves immense cost and time.
CAMPUSDEAN provides many ways to save students' records. Parents can fill in the details from the online form during admission. Teachers can do it from their mobile app. The system itself generates a General Register/Admission number. So, no scope of data duplication or overlapping.
All student profiles are unique. There are multiple options to enter different particulars of the pupil. Right from personal information to their health records and achievements. You can update the photo of a student. And generate their id-card with no errors and in half cost.
Easy to transfer a child to a new class or branch of the school. Eliminates paper-work and worry. The necessary information of the student remains the same throughout. So the teachers just change the class, section, and roll number.
Features of this Student Information System are
Best

school student information management system

software helps schools with:
Student Diary

Multiple Update

Homework Planner

leave application

Student transfer

Student Inquiry

Generate GR No. automatically

Photo update and Photo Gallery

Biometric Attendance

Planned Design of Course Chapter and Various Reports

Records of Biometric and Online Attendance of students

Password Protected Authority to Maintain Privacy

Alumni list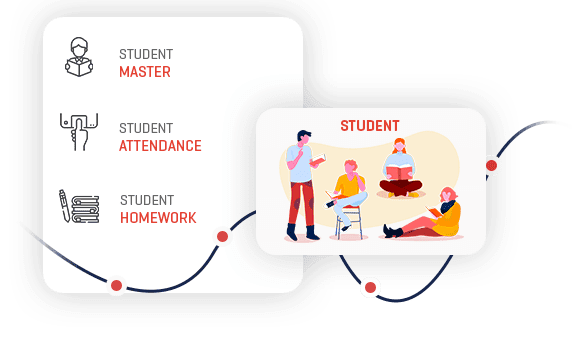 Advantages Of Student Information Management System of CAMPUDEAN
Save time for your staff and teachers.
Store all the details in the cloud. You need not enter the same personal information of the student again.

You can search for any piece of information with one click.

Make changes in multiple student's records at one time.

Inter-departmental information exchange becomes easy and fast.
 Help you have Correct details at all times
The admission process is online. Parents fill details from the online form.

Online forms are smart enough to verify one detail two times.

This prevents spelling mistakes in the names, or wrong date of birth, or phone numbers.

CAMPUSDEAN automatically generates the

Admission

/General Register number.
Safety and Security of your data
Follow robust security protocols. They ensure the safety of data at all times.

Confidential data traverses in encrypted form.

Admin gives permission to a person to access a particular record.
Increases Accountability of Staff and teachers
Every staff has a login-id and password. So, they can only see the modules for which they have permission.

It is not possible to access all modules.

No need to worry about tampering or falsifying of data.
Smooth transfer of a student or multiple students
If your school has many branches, it becomes effortless to transfer students.

All details on the cloud platform make it easy to trace a student.

Option to take -out student's transfer certificate from the software.
Why Choose CampusDean for Student Data Management Software?
With CAMPUSDEAN, the best school management system, thick files are things of the past. It helps schools to work in a streamlined, paperless, and systematic way. Provides error-free keeping of records. And increases the scope of improvement in data management at schools.
FAQ of Student Information System Solution
Direct Inquiry from the school's website?
Yes, parents or vendors can directly inquire from the website. All queries show up on CAMPUSDEAN. And you can answer the questions or approve the admission form from here. Increasing the number of enrollments in your school.
How to input details during peak times of admission?
CAMPUSDAEN has the option of Quick entry. You can input the essential details of multiple students directly from here.