ADMISSION PROCESS SOFTWARE
CAMPUSDEAN Student Admission Management Software System is a software that is integrated into the Student Management System for doing all the works of admission in schools. It brings all the tasks on a single-window to make it fast. Takes all the details of a student and organizes it perfectly. Basically, it gives schools a platform to manage the data quite easily. This system digitalizes admission processes like registration and collection of forms. One can fill the essential details of a student on a cloud-based platform during admission, which makes it very easy to access data from any device at any time.
The time of admission is significant, as well as hectic for the schools. It is a very crucial stage because it is responsible for bringing in more revenue. The number of admissions directly reflects the performance of the school. Enrollment of students is a delicate and challenging task. A unique admission number is generated for every single child, this number is used to make payment of fees, and registration during exams. Hence, if anyone makes even a slight mistake in this data, it creates a lot of confusion. You lose precious time and resources in correcting it.
To make this task easier, faster, and error-free, the Student Admission Management System brings all the manual functions of a person-in-charge for admissions to a digital platform. With the help of this system, you can save the data in any format and update it easily. Besides, searching for any information also becomes very easy and fast. Not to mention, it removes all the chances of tampering with the data.
What Solutions Do We offer in Admission Management System?
There is no need to dig into thick record books or surf through boring and dull excel sheets for finding any information. CAMPUSDEAN gives a superfast user-friendly platform to feed and retrieve data. You can handle any amount of data effectively and accurately. Everything is on a cloud-based platform, so you can quickly update and recover your data. We have the latest safety features to save your data. You need not worry about people tampering with the data. Admin can give access to selective staff for making changes in the records. Not to mention, update of the data in real-time, makes it very tough to manipulate it wrongly.
Our Admission Process module reduces the number of resources involved in a single management process. You end up with an entirely streamlined and paperless system. It avoids many chaoses as the retrieval of data is very fast and accurate. You can generate any number of reports. These help you to analyze the performance of your school in a better way. We give you more than 500 report formats. All the data is in a centralized database; hence, different departments of the school can coordinate very smoothly.
The student admission management system
software for school is takes care of
Easy and Fast Registration

Clears Inquires

Mid-year joining

Inter-Branch Transfers

Record previous Institute's Details

Student Data management in bulk

Maintain error-free Student profile

Generate Unique Registration Number of students

Upload Student photo and all documents

Schedule tests and interview for the admission

Generate Custom Reports

Charts and Graphs for analysis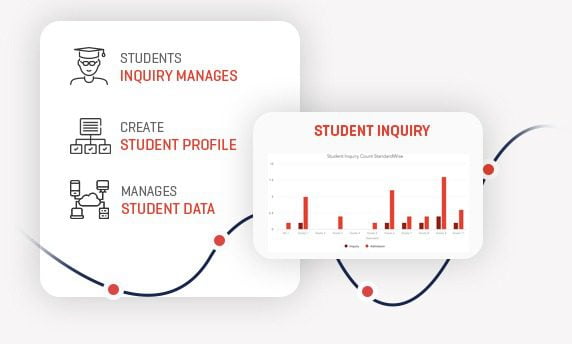 Advantages Of Admission Management System
Time is the new currency today. Saving time will automatically save your money. When your work process takes less money, you can spend it on other developmental work. Your system speeds up and prevents significant mistakes from taking place. In addition to it, you can easily and quickly access any data, old or new, from any device. Admission management software is helpful to school for shortlist the students and manage easily whole admission process. This module is connected with other modules like Fee Collection, Student Details, Account Management.
Generate different reports with one click. You have several Graphs and Comparison Charts for analyzing the data. There is no need to have tall stacks of files and big cupboards for saving the records when everything is on the cloud. Moreover, it stops the wastage of a vast number of papers and in turn, protects our trees.
Why Choose CAMPUSDEAN for Admission Management Software?
CAMPUSDEAN understands the problems faced by your school. We have developed this product after careful research. Not only do we provide answers for your current issues, but our system is also equipped with solutions to tackle future challenges. We provide the choicest customization service. Our team devotes time to understand your difficulties fully and then offers the most reliable and suitable service. This module is connected with fees modules, student modules, report modules etc.
We have developed this system using sophisticated software tools that make it incredibly robust, scalable, and comprehensive. The latest security features ensure the safety of your data. In addition, you can directly schedule the time and date for conducting tests and interviews and inform parents instantly. You can easily coordinate among different branches of your school and transfer the student's record without entering the data again. We provide you the flexibility of choosing the language to work on. Our 15 year-long experience in the field of education and technology guarantees you the best experience.
FAQ of Admission Management System Solution
Do I really need it?
Yes, it's high-time. Digitalization has entered every sphere of our lives. It has helped to make our lives easier and better, so why not utilize it to make our education system a world-class.
Will it benefit my school?
Definitely, already many schools are taking the benefits and are demanding more innovative technologies to help make the education system much better, and the learning process a happy journey. Schools are cutting down on colossal expenditure on resources like papers, files, folders, storage furniture, etc.
How will a cloud-based platform improve my efficiency?
A cloud-based platform gives access to view and update the data from any device at any time. It increases transparency resulting in more accountability. You have all the records anytime under your vigilance.